What is a financial planner, part 1
By Randell Tiongson on November 17th, 2009
Taken from my column at the Business Mirror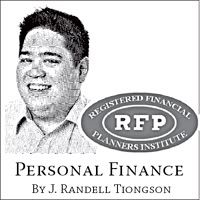 In 2005, I was approached to help established the Registered Financial Planner Institute in the Philippines. I immediately agreed to be a core part of this endeavor because I felt the financial-services industry needs independent institutions that will advocate for the financial-planning practice.
What is a financial planner? Wikipedia defines it thus: "A financial planner or personal financial planner is a practicing professional who helps people deal with various personal financial issues through proper planning, which includes but is not limited to these major areas: cash-flow management, education planning, retirement planning, investment planning, risk management and insurance planning, tax planning, estate planning and business-succession planning [for business owners]. The work engaged in by this professional is commonly known as personal financial planning. In carrying out the planning function, he is guided by the financial-planning process to create a financial plan, a detailed strategy tailored to a client's specific situation, for meeting a client's specific goals."
The financial-planning practice is relatively new with origins that can be traced in the US in the late 1960s. Prior to this practice, most people got financial advice from people selling financial products. Therefore, there was always a conflict-of-interest issue.
While there is no clear regulation as to who can be called a financial planner, the need for some self-regulation and the demand that a financial planner is competent and trustworthy prompted the birth of organizations to certifications and some benchmarks. One of the earliest certification trademarks was introduced in the early 1970s and is now the most recognized financial-planning certification worldwide—the Certified Financial Planner, or CFP. The CFPs are governed by a board of standards in every country that carries the trademark and are usually self-governing. Unfortunately, the CFP trademark is not yet available in the Philippines. Another world-recognized financial-planning certification trademark is the Registered Financial Planner or RFP. The institute (RFPI) was formed in 1983 with its headquarters in Ohio, US. It is an independent self-regulatory professional organization for providing education and membership in the financial-planning field. It has first established the use of designations of "RFP Registered Financial Planner" and "SRFP Senior Registered Financial Planner" in the world. Another worldwide trademark designation that is now in the Philippines is the International Association of Registered Financial Consultants or the RFC. Like the RFP, the RFC also holds its headquarters in the Ohio.
So what does a financial planner really do? In essence, a financial planner can be compared to a physician—he diagnoses and recommends cures like a doctor does, but on financial concerns.
In the last decade, the term "financial planner" has been used, misused and abused by many in this country; from insurance agents, to bankers, stock brokers, multilevel marketing and even those perpetuating scams, posing a danger for the general public, unfortunately. In this country, anyone can claim to be a financial planner whether or not he has acquired the competence to be called one. Some companies have even started to certify their own personnel in the area of financial planning, which I think is peculiar and self-serving as certification should come only from an independent organization to avoid conflicts of interest.
Certified, registered or not, the acid test of a true financial planner is in the kind of work he can do for you. As the adage goes, "The proof of the pudding is in the eating." An honest-to-goodness financial planner must take you to a generally accepted financial-planning process that can be summarized in what we commonly adhere to as the "six-step process" which I will discuss in Part 2 of this article.
Catch me in a series of seminars in the next few weeks. Finance Seminars: Would You Mind, Increase your Financial Intelligence—Bacolod, November 21 and 27. No Nonsense Finance Seminar for the SME—Greenhills, November 28. Personal Branding Seminar: Branding U—How to Stand Out among 90M Other Filipinos with Efren Ll. Cruz and Carlo Ople, December 4 at Crowne Plaza. For particulars, visit randelltiongson.com and brandinguevent.com.
"Plans fail for lack of counsel, but with many advisers they succeed" (Proverbs 15:22, NIV).
J. Randell Tiongson is an advocate of life and personal finance. He is a director of the Registered Financial Planner Institute (Phils.) and has over 20 years' experience in the financial-services industry. He is also the cofounder of income-tacts.com, the country's premier personal-finance online community. For speaking engagements, financial planning, training and consultancy, send an e-mail to [email protected]. To read his personal-finance blogs, visitwww.randelltiongson.com. The opinion and views expressed herein are solely those of the author's and do not necessarily reflect those of the Personal Finance Advisers Philippines Corp. or the Registered Financial Planner Institute. Join the 18th RFP Program (January16 to March 6, 2010). Visit www.rfp-philippines.com or inquire at [email protected]. Tel. No. 634-2204