The Top Life Insurance Companies of 2013
By Randell Tiongson on June 4th, 2014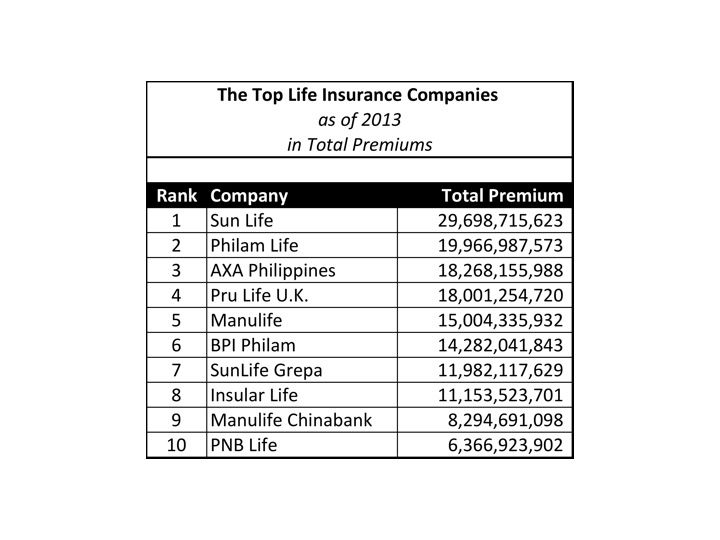 The results are in! Sun Life has retained it's dominance of the life insurance industry making them the top insurer, a spot they have held for the 3rd consecutive year. Not only did they manage to keep the top spot, they have managed to even widen the gap between the number 2 spot with about 10 Billion Pesos worth of premiums — truly an astounding feat. Sun Life's strength remains to be their strong agency force which has remained to be a strong distribution channel with higher than average productivity. Sun Life's agency has grown in leaps and bounds from about 2,000 agents in 2003 to over 7,000 in 2013 — a growth of over 300% in a span of 10 years. Further, Sun Life's timely and relevant marketing campaigns has cemented their stronghold of the top spot. Congratulations Sun Life, your performance is truly amazing.
2013 saw a realignment of the rankings in total premium income. Philamlife's phenomenal 2013 performance has allowed them to go back to the 2nd position, a rank they relinquished in 2012. Philamlife's renewed vigor, new strategies, re-tooling of advisers and aggressive recruitment strategies resulted to a jump of almost 5 Billion. Philamlife's vast network, brand premium and fresh strategies not only allowed them to regain the 2nd spot, it also widen their gap with the 3rd spot by almost 1.8 Billion worth of premiums. What Philamlife has accomplished is phenomenal as well, at the rate they are going, there is much to be expected from this insurer.
Landing on the 3rd post is AXA Philippines, a post they have held for many years and and a spot they ceded in 2012. Just like Philamlife, AXA's current strategies and their dominance of the bancassurance environment and a stronger agency force produced a growth of almost 6 billion more premiums in 2013 from their 2012 numbers. AXA Philippines is a joint venture partnership between the French insurer and global dominant player AXA and Metrobank.
Slipping down to the 4th spot from their 2012 ranking of number 2 is Pru Life U.K. In 2012, Pru Life UK surpassed Philamlife which landed them on the 2nd spot but their 2013 performance was not strong enough for them to defend their rank. Pru Life UK slips down by 2 spots in 2013, however, they still delivered positive growth from their 2012 numbers.
Manulife jumps by 2 spots from number 7 in 2013 to number 5 in 2013.  Their rise is attributable to their spectacular performance and they more than doubled their premiums in just 1 year, from 7.4 Billion in 2012 to 15 Billion in 2013! Manulife's strong productivity is a truly admirable asset and  more than doubling revenues in just a year is truly one for the books. Bravo Manulife!
There were many changes in the 2013 rankings — SunLife Grepa improves to the number 7 spot and they are now behind BPI Philam's number 6 slot, down from number 5 in 2012. Insular Life, the largest Filipino-owned insurance company slips to the number 8 spot — down 2 spots from 2012. Manulife Chinabank and PNB Life retains their 2012 ranks of number 9 and 10 respectively.
The life insurance industry as whole delivered P 170,280,660,057 worth of premium income, up from P119,454,550,174 in 2012 or a growth of 42.5%.
The life insurance industry has been growing tremendously for many years and this can be attributed to the more Filipinos having better income and improving awareness of financial products and the importance of financial planning. While P 170 Billion bucks is a huge amount of money, it is merely a drop of the bucket from the money in the banks which has reported to be more than 6 Trillion Pesos in 2013. Clearly, the life insurance industry has a long way to go and a daunting task to get more Filipinos financially secured and this is something all of us should be advocating for.
* Data from the Insurance Commission.