Personal Branding for Finance Practitioners
By Randell Tiongson on June 16th, 2011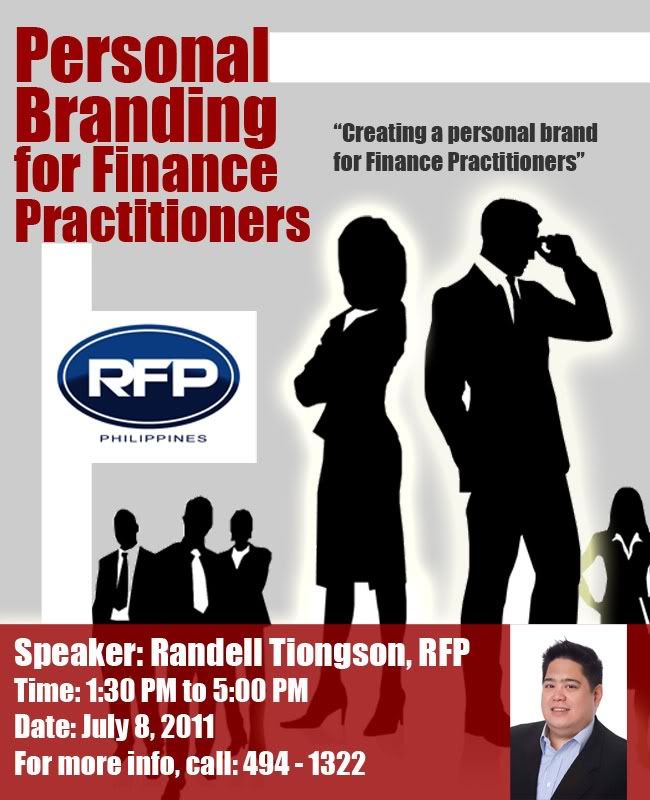 Attend the Personal Branding for Finance Practitioners
July 8, 2011     RFP Office, Tektite Bldg., Ortigas, Pasig City
AN OVERVIEW:
This interactive, cathartic and practical seminar will help you understand, create and send out the unique brand that is YOU. Today's business world is fast paced and so are the decisions and judgments we are making. There are more than a lot of business men and women, financial advisors, entrepreneurs both young and experienced bringing the same products, skills and services to your field in the industry. But why do some people still stand out above the rest? Best bet is that these people, consciously or not, have their own unique personal brand.
WHY SHOULD I ATTEND?
Learn from Randell Tiongson, one of the country's popular names in personal finance, a columnist for the Inquirer and MoneySense, and one of the directors and founders of RFP Philippines. Randell will teach you the secrets to building, winning and transmitting your personal brand. After this seminar, you will have uncovered why personal branding is so important to helping you on your way to wealth.
PROGRAM OBJECTIVE AND BENEFITS:
Creating a personal brand for Finance Practitioners
Why is branding important
How branding can help your profession
How branding can result to higher productivity
Ways to be known beyond your circle
Ways to improve your personal brand
Case study presentation
Registration Details
Registration is on a first-come, first-served basis. Don't miss this event, reserve your slots now!
Date: July 8, 2011
Venue: RFP Office, Tektite Bldg., Ortigas, Pasig City
Time: 1:30 to 5:00 pm
Contact Number: (632) 494 1322