Investing made easier with BDO's EIP
By Randell Tiongson on September 4th, 2011
Re-posting Jane Uymatiao's blog…
In a previous post, I wrote about having been invited to a workshop (Steps to Financial Peace) given by Randell Tiongson, a well-known financial planning consultant, as well as other inspirational speakers.
Randell spoke of the Philippines' low savings rate – 16% in 2003 – the lowest in Asia. If Filipinos saved only 16% of their income, it meant that so many are not saving or not saving enough. In the workshop, Randell also mentioned that if all extra money is placed only in savings or time deposit, it earns at a lower rate than inflation. Purchasing power then is being eroded by inflation as it cannot keep up with the higher inflation. The only way to keep purchasing power ahead of inflation is to put one's savings into higher-yielding products. Trust products are the popular investment channels available now to most people Problem is that while the minimum placements have gone down considerably to allow more people to invest in these, it is still not low enough.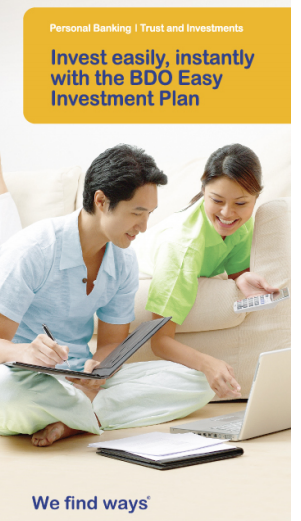 I remember a time when the minimum investment amount in Unit Investment Trust Funds (UITF) was around PhP 1 million. That meant only the already rich could invest in these types of products. Everyone else had to be content with a savings or time deposit product. Over the years, however, the minimum trust investment started coming down to Php500,000, then PhP100,000 and eventually, as low as P10,000. A sponsor of the workshop happened to be Banco de Oro (BDO). During the workshop, the executives of BDO's Trust Department, introduced a new trust product called Easy Investment Plan or EIP.
For only P1,000 a month, you can already join the ranks of those who have access to higher-yielding products.
Briefly, what are UITFs?
They are NOT deposit accounts; rather, they are trust agreements. In the case of the EIP, BDO is the trustee, tasked to make decisions as to how to invest the funds.
They earn a higher rate of return compared to deposit accounts but are not insured with the PDIC or obligations guaranteed by a bank.
An investment is assigned a certain number of "units" depending on the unit value on the date you made the investment. This unit value …
Read full post athttp://janeuymatiao.com/2011/09/03/investing-made-easier-with-bdos-easy-investment-plan-eip/