Invest in yourself
By Randell Tiongson on April 15th, 2013
I'd like to share an excerpt of the book I am writing. I hope that you will find this excerpt helpful.
——————
Invest In Yourself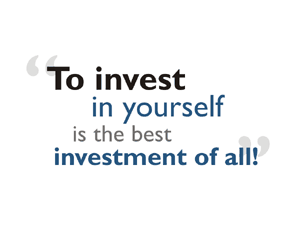 I believe the best way to earn is to first invest on your best performing asset—You! Improving yourself will be the best way for you to earn better. Have you ever honestly asked the question, "Am I investing in myself?"
When was the last time you read a good book? When I say good book, I am referring to good reference materials and not those fictional stories of vampires in love or some fantasy magical school.  I noticed that many Filipinos are not in the habit of reading, and I was one of them until my friends from church started giving me books and encouraged me to read more. When I started to read books, I realized that I started getting better at my writing, my teaching, and I was even becoming to be an interesting conversationalist. There were many new things I picked up that were directly or indirectly related to my profession. I did not limit my reading to finance materials. I started to read many books on leadership, marketing, digital media, economics, business and others. Of course, part of my daily reading is the Bible where I get much wisdom, especially for financial matters.
I try to read foreign and local books. The foreign writers that I love to read are Andy Stanley, John Maxwell, Dave Ramsey, Seth Godin, Larry Burkett among others. I've also found some local books insightful such as Efren Ll. Cruz' Pwede Na! A Complete Pinoy Guide on Personal Finance, Chinkee Tan's Till Debt Do Us Part, Jayson Lo's YOUnique, Josiah Go's Marketing Plan, Yeng Remulla's Productive Pinoy plus a couple of books of Francis Kong.
I don't limit myself to reading just books; I regularly follow some columnists like Efren Cruz, Cito Beltran, Wilson Lee Flores, John Mangun among others. I also devour a lot of stuff from the internet, reading many blogs by Carlo Ople, Dennis Sy, Noemi Dado, etc. I spend about 1 to 2 hours daily reading, researching and studying materials. I even go through a lot of Twitter posts; picking up potential materials I can use and following the links.
Podcasts are also something I like listening to especially when I am travelling. I make it a point to periodically listen to the podcasts of Dave Ramsey and Ravi Zacharias.
I also converse heavily with a lot of people and my mentors. Coffee or lunch sessions with them have always been a huge learning opportunity for me.  Most notable are my sessions with Francis Kong, Cito Beltran, Josiah Go, Efren Cruz and Rex Mendoza. Sessions with my peers are also great learning opportunities that have truly helped me learn, apply and teach.
I must confess that I still have a lot of unread materials, un-played podcasts, un-opened links and un-served coffee that I need to work on but I will get to them sooner than later.
It is always a good idea to invest on learning. Many Filipinos are not big fans of trainings and seminars—a big mistake if you ask me. The more I learn from trainings and seminars, reading books, talking to great mentors, and reading columns, the more productive I get.
When I was a young insurance professional, I took a special program being offered in the industry. Many of my peers felt it was a waste of money and a waste of time. Instead of being encouraged, many were actually discouraging me from spending hard-earned money (which I didn't have much of) and giving the seminars the time of the day. While the program was far from perfect, the learning I picked up was able to make me a better insurance professional and gave me a thirst to learn further. I saw myself becoming more confident and competent because of the learning, and my investment definitely paid off because I was able to improve my revenue as a direct result of the program I took. Years later, I rose to become a manager of insurance agents in the company I used to represent. I stumbled upon an imported program for agency leaders but the enrollment cost was quite steep. If I remember it right, the cost was more than P50,000 for me to enroll in the program. Many of the agency managers in my industry were not investing in the program, and most of them cited cost and time as a reason not to. Being the learner that I am, I reviewed the program and knew I could benefit from such a program even if my peers thought otherwise. True enough, I became a better agency manager as a result and my income reflected a rise in multiples of what I paid for the training. I took many more programs and invested in dozens of seminars in a span of 2 decades—some of those carried a hefty price tag like the conference I attended in Singapore once you factor in plane fare, hotel and other incidentals on top of the pricey conference fee.
I have lost track of how much money I spent on my learning but it was all worth it. While there were a number of conferences or books that weren't really as helpful as I wanted them to be, I'd say that I have learned much from them and contributed to who I am today. The returns are quite difficult to compute but it has really paid off in exponential ways. In fact some of the programs I took, I ended up teaching them myself as the organizations behind them would often ask me if I can teach the programs, for a fee of course.
——————-
The excerpt from the book I'm writing echoes a strongly held belief of mine — the best investment you can ever make is investing in yourself.
Catch this year's most exiting and insightful investments event: iCon 2013 – The No Nonsense Investments Conference on June 22, 2013 at the SMX. Check out https://www.randelltiongson.com/i-con2013/