Free Slots to Money Summit 2012
By Randell Tiongson on June 30th, 2012
The annual Money Summit & Wealth Expo is back and this time it's bigger and better!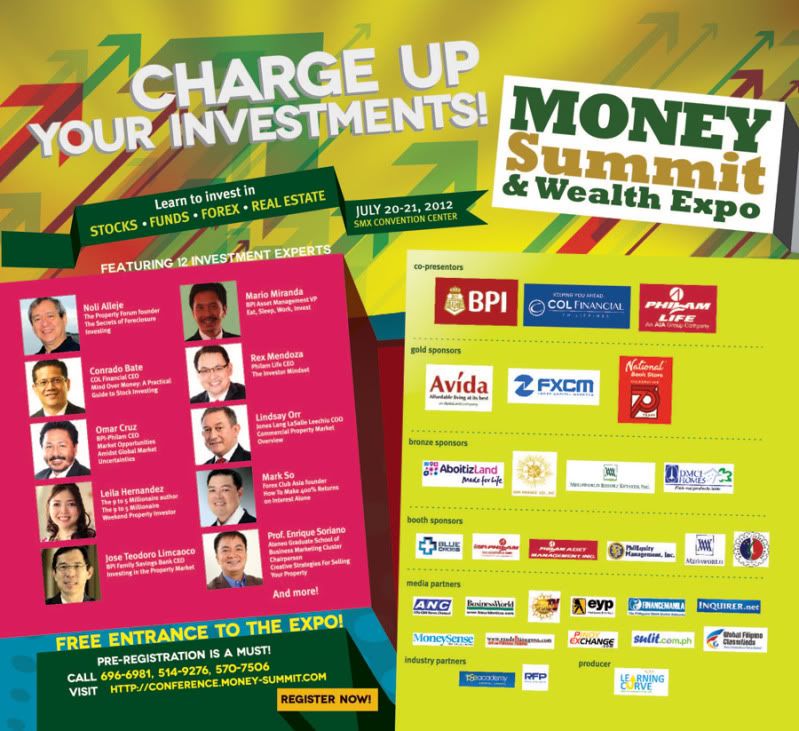 On July 20 & 21, the SMX will be the venue to be if you want to really learn about investments and investing strategies. Learn from real experts who are the leaders in their industry — Stock Market, Forex, Insurance, Mutual Funds, Real Estate, etc.
As a treat to the readers of this blog, we are giving away 2 free slots worth  P5,497 each which gives you access to the 2-day conference for 2 pax, 10 free passes to the 2-day expo, meals for 2 days for 2 pax, workbooks for 2 pax, and access to all speakers' videos and PowerPoint presentations. What a treat!
To win the free slots, simply post why you want to want to attend the conference and how it can help you in achieving your goals. We will select the 2 best answers and we will advice them via email if they have been selected.
Winners will be selected on July 7, 2012.
Check out the website of Money Summit & Wealth Expo at http://conference.money-summit.com/