Tag: steps to financial peace
Preparing for retirement
By Randell Tiongson on May 30th, 2012
It's time to be serious with retirement. Watch this!

Free Financial Counselling by Registered Financial Planners
By Randell Tiongson on May 16th, 2012
Great news! Those who are attending Steps to Financial Peace this Friday may approach Registered Financial Planners (RFP) for objective financial consultations for FREE!
There will be selected RFPs at a designated area during the event who are offering their services for free for participants of the event. These RFPs are highly competent and trained to give objective advise to your financial concerns. They have all graduated from the Registered Financial Planner Program, a rigorous training program on financial planning.
Usually, RFPs charge a fee for counselling but to those attending Friday's event, they are FREE with no strings attached.
See you Friday!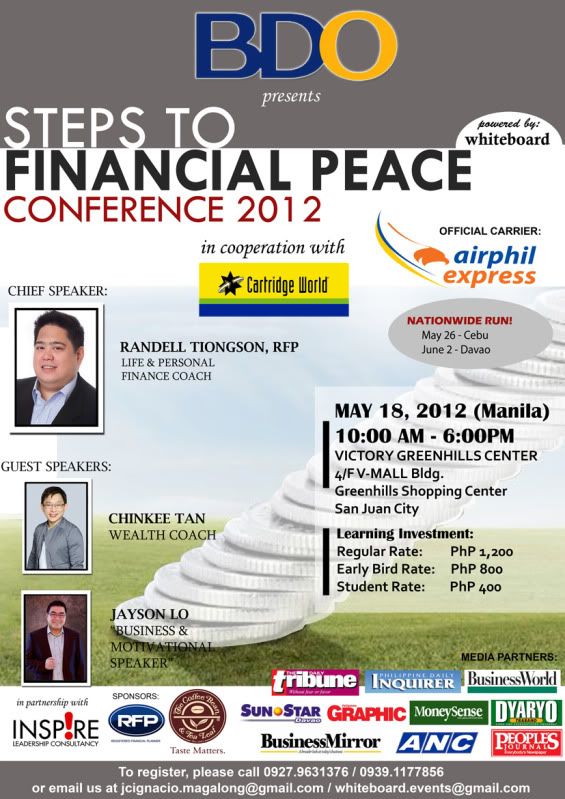 What people say about Randell Tiongson
By Randell Tiongson on May 2nd, 2012
"Randell Tiongson treats his clients like family, he is sincere and honest in guiding you to the right ways you can achieve your financial goals using the full extent of your capability."
– Christian Bautista, International celebrity & multi-award singer
"Randell is such an authority in personal finance. His approach is practical as well as comprehensive. He is a notch above many others in this arena because he is a real practitioner. His experience weaves a vital fabric of openness and effectivity in his seminars and programs. He goes beyond awareness – his approach focuses well on one of the most important areas – the follow through. That can spell success and failure in life and money management."
– Rex Mendoza, President & CEO, Philamlife
"Personal Finance Coaching with Randell busted a great deal of money myths for me. For example, I used to think that finances is complicated and has been a source of fear. But talking to Randell made me realize there are simple and easy steps in achieving financial-peace."
– Rica Peralejo – Bonifacio, TV & Movie Celebrity
"When you listen to Randell Tiongson, you don't only learn about personal finance, you also get entertained. I definitely recommend Randell Tiongson to Filipinos who want to learn ways to manage money and achieve financial freedom. He has inspired a lot and continues to reach more through his talks and articles that are both educational and fun."
– Marvin Fausto, Senior Vice President & Chief Investment Officer, BDO Unibank
Catch Randell Tiongson with his guests Chinkee Tan and Jayson Lo on May 18, 2012 for Steps to Financial Peace! 10am to 6 pm at the 4th Level of V Mall, Green Hills. For inquiries, please call or sms Jen Magalong at 0939-1177856 or 0927-9631376 or email [email protected]
Don't miss this life-changing learning event!